• Vonda Youngkin • fan deck • fusion • fusion mineral paint • true color card
  Stop waxing chalk, and paint with Fusion! Can Fusion seriously do everything chalk paint can do?  Yes, and more! Fusion Mineral Paint... Has a built-in top coat, so it does not require wax or a sealer, Self-levels with minimal texture and brushstrokes, Is both water-proof and stain-proof, Can easily be distressed, Is UV Resistant, so it can be used outdoors, and Can Chalk-paint can't say all that? "I sell Fusion Mineral Paint, Iron Orchid Designs Decor Transfers, Moulds, and Stamps, and refinished furniture.  Like everyone, do my best to save money and time so I can spend both on my family. ...
---
• Vonda Youngkin • azure • copper • fusion • fusion mineral paint • iod • moulds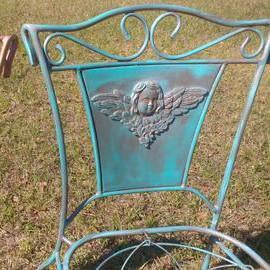 Faux Copper Chairs using Fusion Mineral Paint and Iron Orchid Designs It's spring in Florida...at least it was two days ago, today not so much! This is the time of year that we all want to get out in the sunshine and spring planting fever sets in too. A fresh new look on the porch and the flower beds. This project came about because I had two ice cream chairs that I had recovered and they never sold. When that happens I have to change things up a bit.  Old chairs are fairly easy to find at yard sales and...
---
• Vonda Youngkin • contest • freebie • fusion • give away • giveaway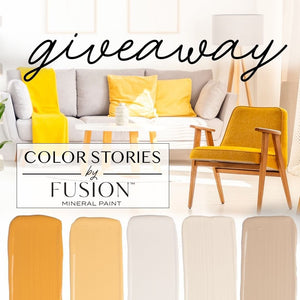 Fusion Mineral Paint is giving away FIVE pints of Fusion Mineral Paint - one of each color from March's Color Story - and an incredible Staalmeester paint brush!
Click here to read Fusion's FB post for rules, more details, and to enter!
Make sure you enter on THEIR post with all the information they are requesting!
Giveaway runs from today Monday, March 25, 2019 9 AM EST to Friday, March 29, 10 am EST.   Winner to be announced on Friday.
---
• Vonda Youngkin • brown • color stories • fusion • fusion mineral paint • palette • white • yellow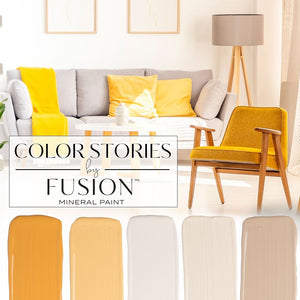 MARCH'S COLOR STORY FROM FUSION MINERAL PAINT ALGONQUIN, PLASTER, RAW SILK, PRAIRIE SUNSET, and MUSTARD March's Color Story from Fusion Mineral Paint is inspired by what else? Spring! It's been a long, cold winter here in Toronto, ON (Canada), so we wanted to use this month's color story to forget about winter and focus on what's next – warmer weather and lots of sunshine! Cue the bright colors! The yellows that remind us of flowers blooming and the light neutrals that keep everything clean and bright. March's Color Story from Fusion Mineral Paint is sure to brighten up your mood....