• Vonda Youngkin • azure • copper • fusion • fusion mineral paint • iod • moulds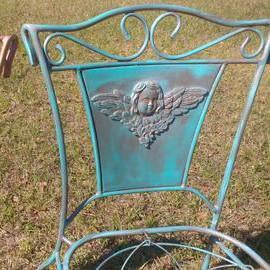 Faux Copper Chairs using Fusion Mineral Paint and Iron Orchid Designs It's spring in Florida...at least it was two days ago, today not so much! This is the time of year that we all want to get out in the sunshine and spring planting fever sets in too. A fresh new look on the porch and the flower beds. This project came about because I had two ice cream chairs that I had recovered and they never sold. When that happens I have to change things up a bit.  Old chairs are fairly easy to find at yard sales and...
---
• Vonda Youngkin • iod • molds • moulds • transfers
Update - I just received notification that the following FIVE IOD Moulds and Transfers have been shipped.  Due to the holidays, I don't expect to receive them until January 3.