SEPTEMBER'S FUSION MINERAL PAINT COLOR STORY
WARM FALL PAINT COLORS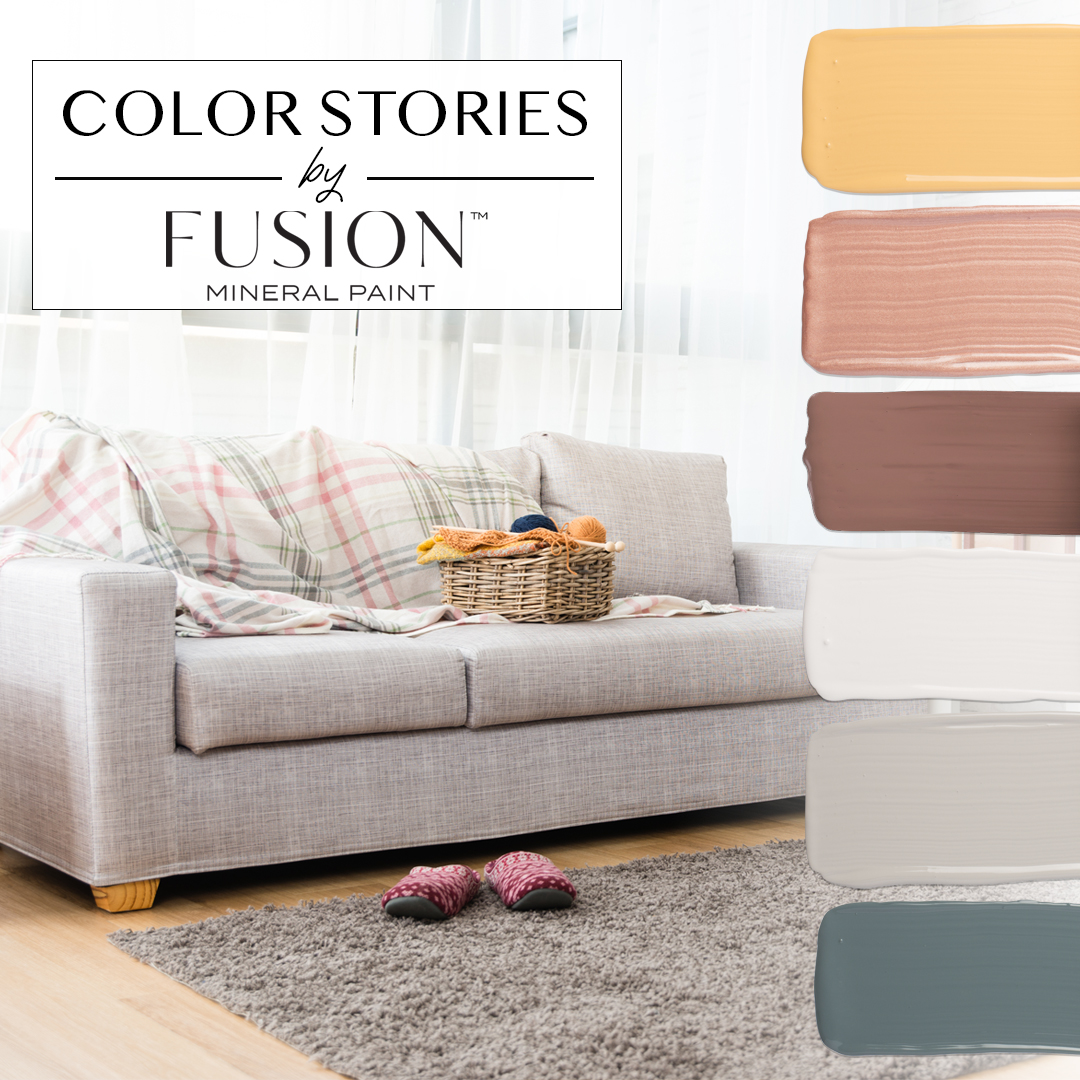 With summer coming to an end this month and the kids going back to school, we are gearing up for fall! This is a busy time of year; and life is getting back into a routine after the leisure that is summer. It can be hectic with many new beginnings such as school, work, or moving out on your own for the first time. That's why September's pallet features inviting warm fall paint colors so you can take a moment to relax and an enjoy your space. With so much happening this month it's important to slow down and take moments for yourself.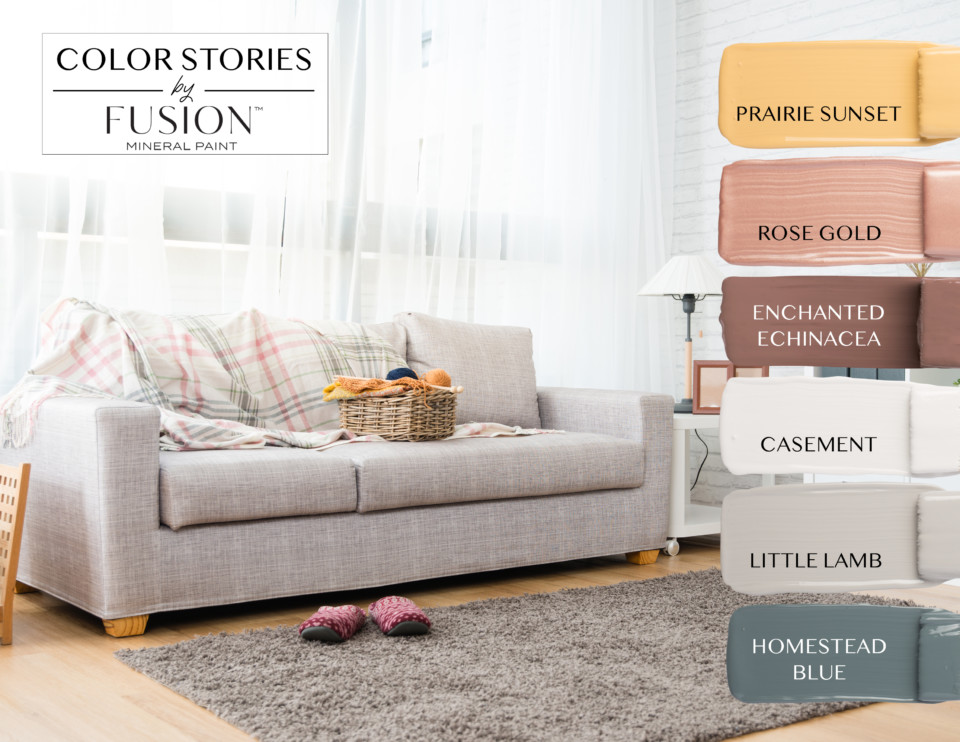 Cosying up on this couch after a long day has inspired September's Color Story. It's a mixture of Casement and Little Lamb. Being a subtle, neutral piece it is easy to play with colors around this base. As well this beautiful shaggy rug is Little Lamb, adding to the cozy and inviting feeling of the space. Accents of Homestead Blue can be seen in the lamp, this dark neutral color pairs well with accents of Enchanted Echinacea, Rose Gold and Prairie Sunset.  Compared to the neutral bases 
Enchanted Echinacea, Rose Gold, and Prairie Sunset
 are the perfect accent colors to add a pop. While still remaining warm and inviting with this pallet. 

Septembers 
Color
 Story Colors
Prairie Sunset.
A cheerful warm yellow, it adds joy with its vibrant versatile color, furthermore it brings joy to any room.
Rose Gold.
We don't have to tell you that in the last couple of years, Rose Gold has exploded onto the scene, appearing almost everywhere you can think of. In particular it can be seen in home decor products, jewelry and even on our cell phones. This super on trend color, Rose Gold Metallic paints a soft and fun punch of pink.
Enchanted Echinacea.
Part of our Lisa Marie Collection this color was created to mimic the heart of the Echinacea flower, this rustic rose hue is bursting with warmth and vibrancy. In particular it is ideal for those who are looking for an elemental, nature-inspired color. It is also a 
rich color
 full of depth.
Casement.
This is our favorite neutral warm white that pairs well with virtually any color! A neutral white that adds a warm tone with any color combination. A perfect base color to begin any project with.
Little Lamb.
From our Tones for Tots Collection this grey is a fantastic woolly neutral that adds a classy look to any DIY project. This is a hue that plays nicely with every color in our collection, making it the perfect complimentary shade.
Homestead Blue.
This historical blue from our 
Canadiana
 Collection has stood the test of time for over 20 years when we first came out with it.  Grey and muted teal undertones goes well with deep yellows, reds and all neutrals. This Exclusive blue from our Canadiana Collection it's charm & history make this one of our Ironic colors.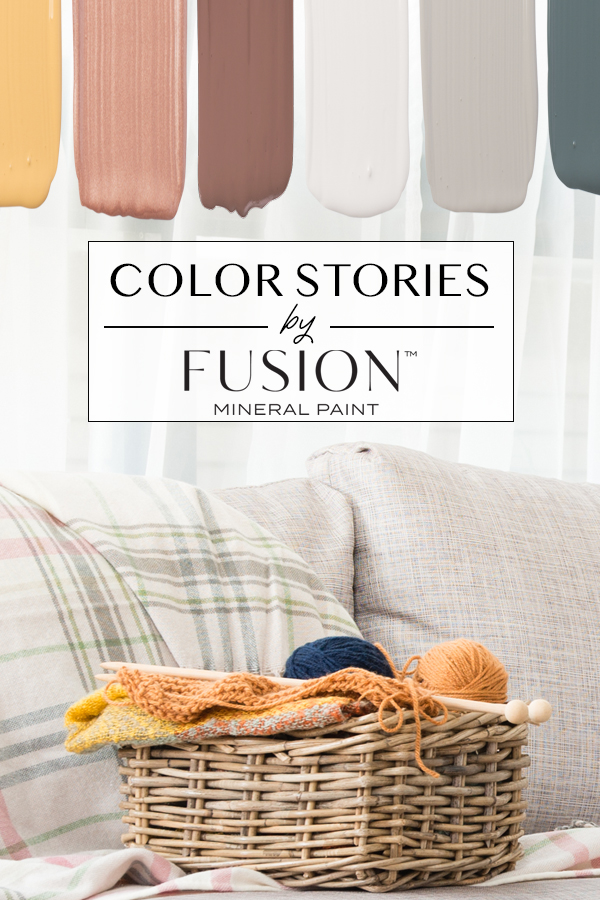 What colors would you pair from 
September's
 Color Story? Do you have a favorite color? Leave a comment and let us know.
If you have created any projects using these colors please tag us and share with us using our hashtag #PaintitBeautiful