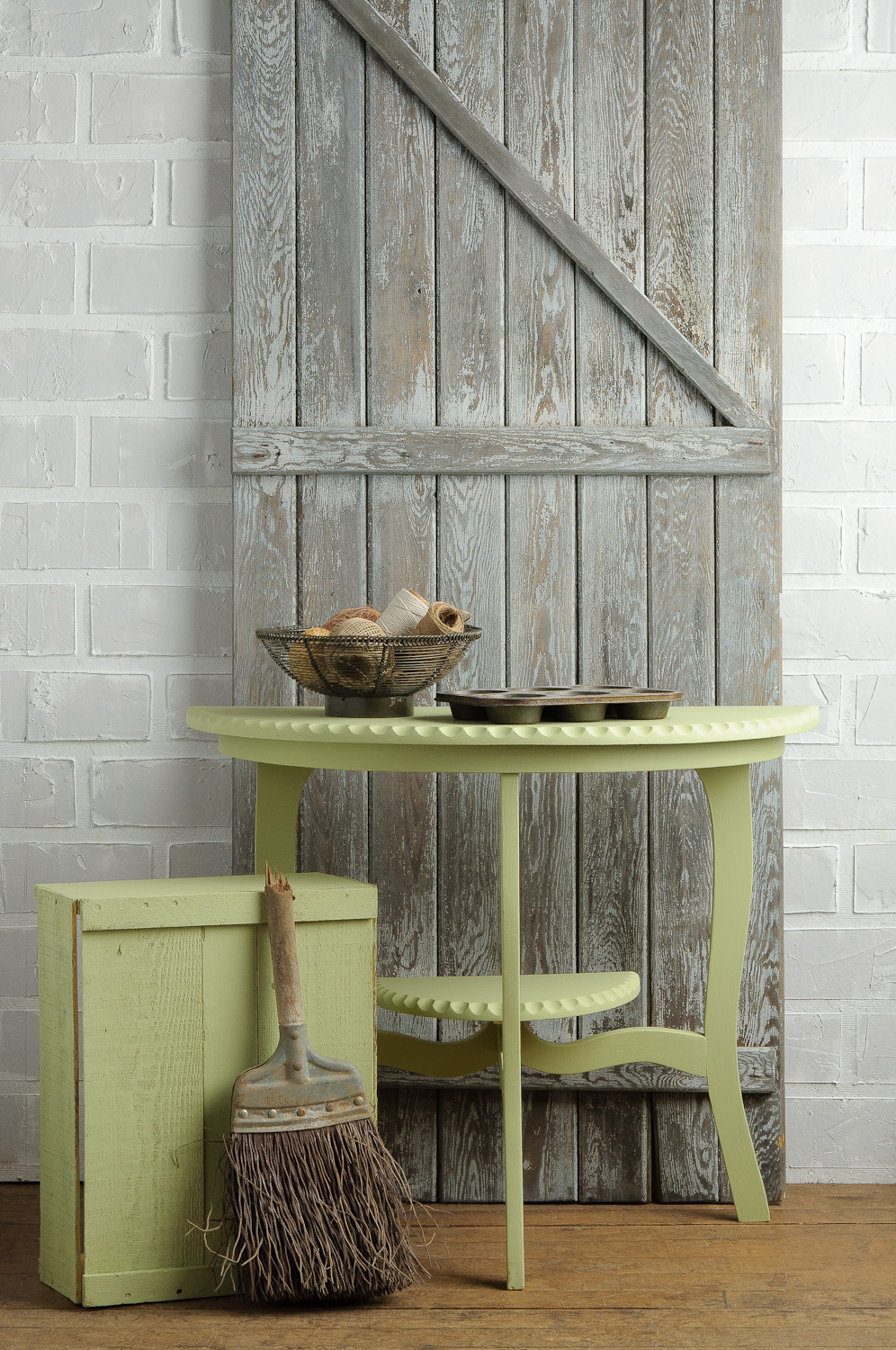 As a professional in the industry, I know that unless I take the proper measures for prep these types of surfaces will be problematic regardless of the paint I use, unless I opt to go with a toxic paint (no thanks – highly volatile oil based products, or even high VOC content Acrylics are not in my repertoire). More on chemical sensitivities later…for now back to PREP.
A little prep goes a long way…
Lightly sand and de-gloss the surface.
By sanding you are essentially breaking open the surface. This will allow for lots of microscopic holes for the 100% acrylic Fusion™ Mineral Paint to bind/ grip on to. This doesn't mean that it will take you all day of sanding, no just a simple 220 grit and a gentle rub along the surface to de-gloss.
 Have a Waxy surface?
Wax acts like a resist, meaning anything applied over top of the wax will not want to adhere. You must remove wax prior to painting with any paint. To remove wax you will need to use a Mineral Spirit of some kind. Homestead House Paint Co sells an Odourless Solvent that is very easy to use and removes waxes and de-greases.
 Tip – It also cleans the wax out of your brushes!!
Remove excess dirt or Dust
If you leave on excess dust and dirt, you will paint over it and trap it in leaving a surface with imperfections.
Once you are satisfied that you have given a light sanding to scuff the surface, removed any pre-existing wax, and have a clean stable dust free surface you are set to get painting! This process should only take a few minutes, however it will guarantee your results 100% !
 Are you working on bare new wood?
When you're working on a raw porous surface, the paint will soak in much more, and you will use more paint, that is why in most cases it is recommended to add a primer to seal up your wood.  A primer is often recommended when changing from one drastic colour to another, however in this case on bare wood would help to fill in the pores of the wood so your paint doesn't soak in.
Want to seal in knots?
You must use a Shellac based primer, that is typically the only thing that will prevent the knots from bleeding through any paint.
Why & When do I need to use the Ultra Grip™?
Surfaces such as laminate, IKEA pieces or high gloss lacquer are next to impossible to paint with any paint. Don't worry we have the exact remedy! Fusion™ Ultra Grip™ is a super adherent primer, made up of 100% pure acrylic resin.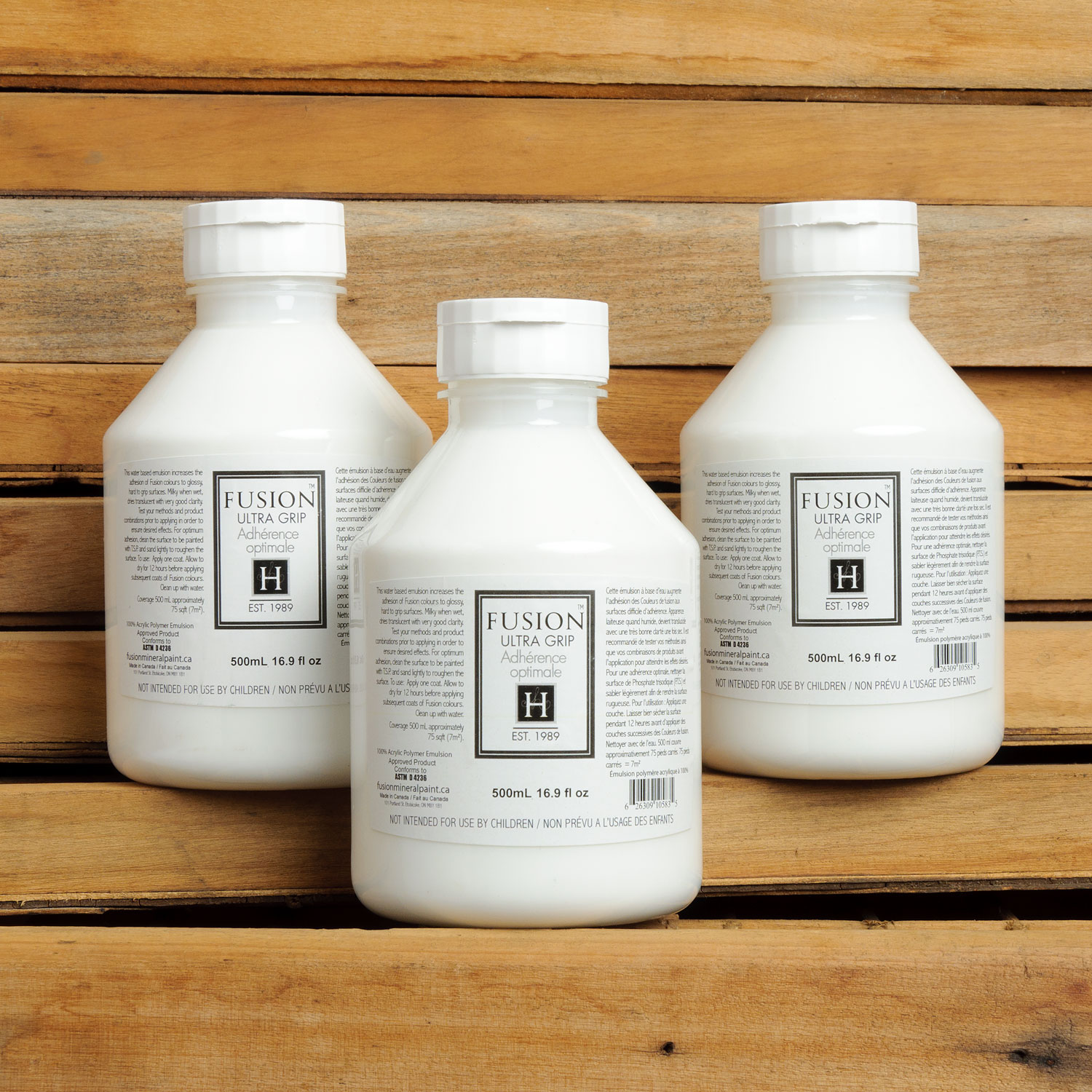 I thought that Fusion™ was 100% Acrylic? How is Ultra Grip™ different?
Let me explain the recipe of a paint.
In all paints there is a:
Binder (100% Acrylic Resin)
Pigments (Minerals in Fusion)
Solvent (Water)
All of those different ingredients combined make up a paint, so the 100% acrylic resin in the paint is a portion in the recipe.
If you use Ultra Grip™, the entire recipe is 100% acrylic resin, therefore will have increased adhesion for particularly difficult surfaces such as laminate, metal, lacquer or glass!
It is the 100% acrylic resin that creates that super strong adhesion/bond/fusion to the surface.
Simply Prep your piece, and apply 1 coat of Ultra Grip and let dry for 12 hours, then continue with your Fusion™ Mineral Paint!
How is Fusion™ Mineral Paint acrylic different than another companies 100% acrylic?
Fusion™ Mineral Paint is uniquely formulated with a proprietary 100% acrylic resin. There are many grades of acrylic, ours is the highest grade, industrial acrylic resin available on the market.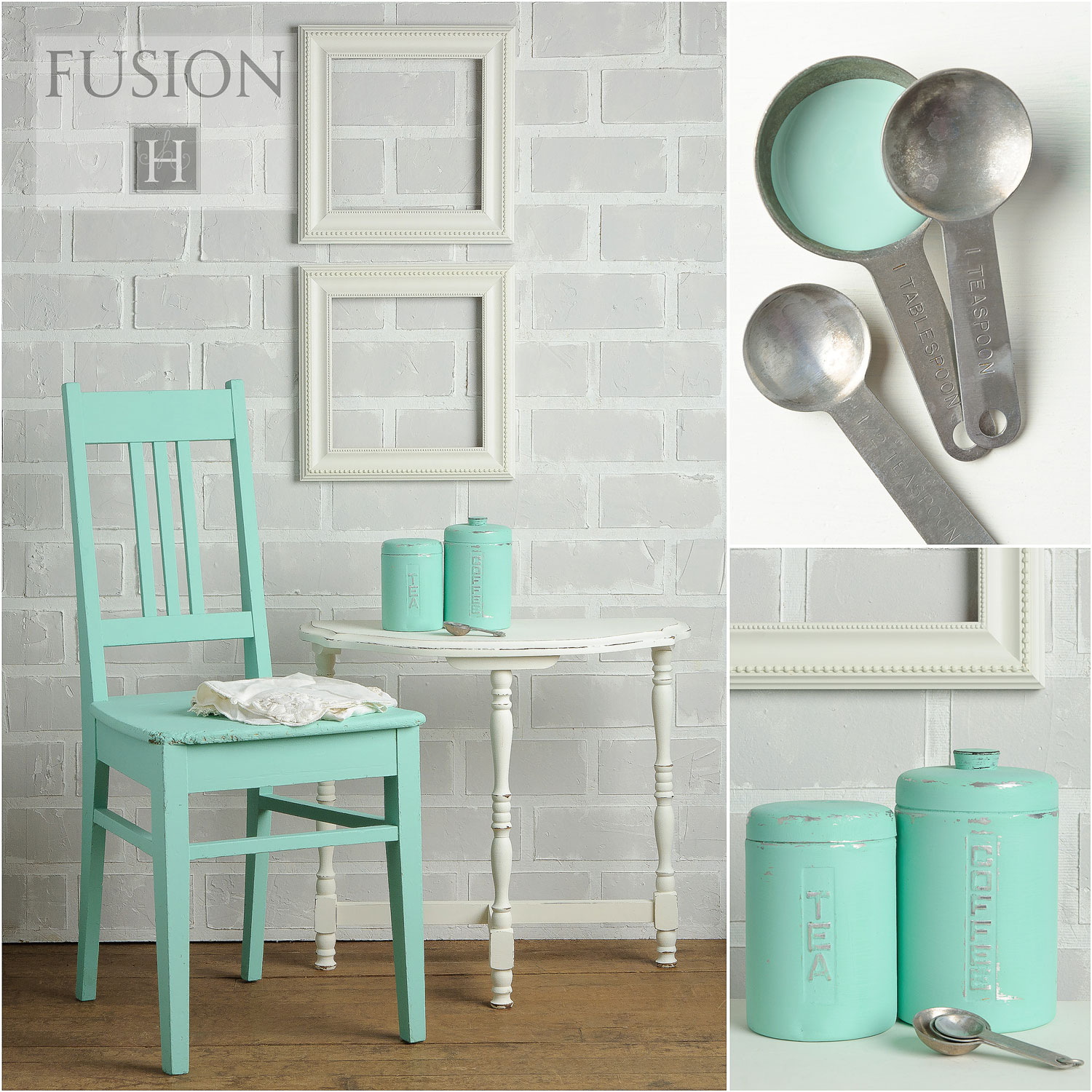 Our philosophy is do it right the first time, and that goes for all of our ingredients. Our unique resin is a very expensive ingredient in our formulation, most competitors do not use a 100% acrylic resin, however they use less expensive latex and vinyl- which are quite toxic and do not have the same adhesion or long term durability of Fusion™ Mineral Paint.
 We quite simply do not cut corners, we use only the best ingredients to give you the best results.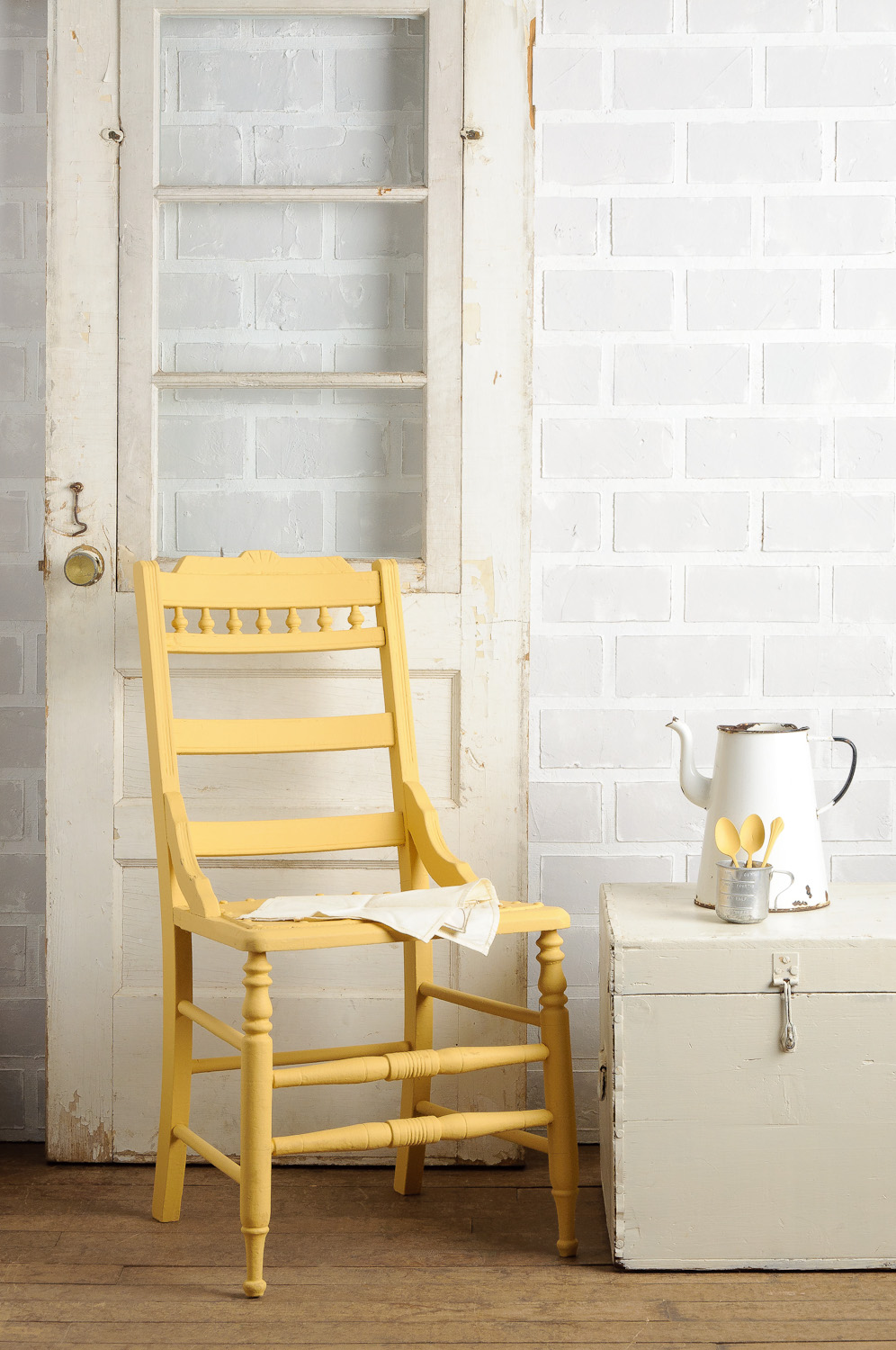 No Top Coat Required!
For most of your projects you will not need a top coat, however for certain projects that are very high traffic, such as Kitchen Cabinets, Table Tops etc, adding another layer will absolutely increase the durability. The more layers you add, with the proper curing time in between, the harder it will be to cause damage to your surface.
If you do not use a top coat, you can simply wash your Fusion™ Mineral Paint if any marks occur to high use, and always do small touch ups if ever needed down the road, as you would with any paint.
The 100% acrylic results in a built in top coat as it creates a cohesive surface that is water proof once cured, so no top coat is required for water permanency and everyday handling. It will not embrittle or crack over time and it will maintain excellent durability bound to stand the test of time.
Tough Coat™
Tough Coat™, is a 100% Acrylic clear, non yellowing hard top coat that dries to a semi gloss finish. It is specifically formulated for your table tops and your kitchen cabinets as those will get the most wear and tear.
Beeswax Finish
Beeswax Finish is a completely natural wax that is food safe also a fabulous top coat for those surfaces which you would like to increase the sheen. I love the feel that the wax gives to a piece, it really add a smoothness and increased sheen.
 Happy Painting…until next time!