STAALMEESTER PAINTBRUSHES FOR THE PERFECT PAINT FINISH
The paintbrush is a traditional piece of equipment which it is assumed to be best manufactured using natural bristle. It still remains part of the standard tools of a painter. However for years manufacturers have been trying to develop a good alternative to bristle paintbrushes - a universal brush that can handle both synthetic and water-based paints, whilst maintaining consistent brush quality. With the Staalmeester synthetic brushes, the solution is now available. The right combination of ingredients used in these synthetic paintbrushes perfectly well meet requirements for correct processing of the new low "VOC" (Volatile Organic Compounds) paints. The difference from the natural bristle brushes is the consistent quality of the special thin synthetic filaments. The combination of the right bristle filling will result in a minimal brushstroke finish with the less fluid VOC paint.
We are bringing you only the absolute best tools to ensure the absolute best finish when you Paint it beautiful with our superior Fusion Mineral Paint! Let me introduce the Fusion Mineral Paint Staalmeester Collection!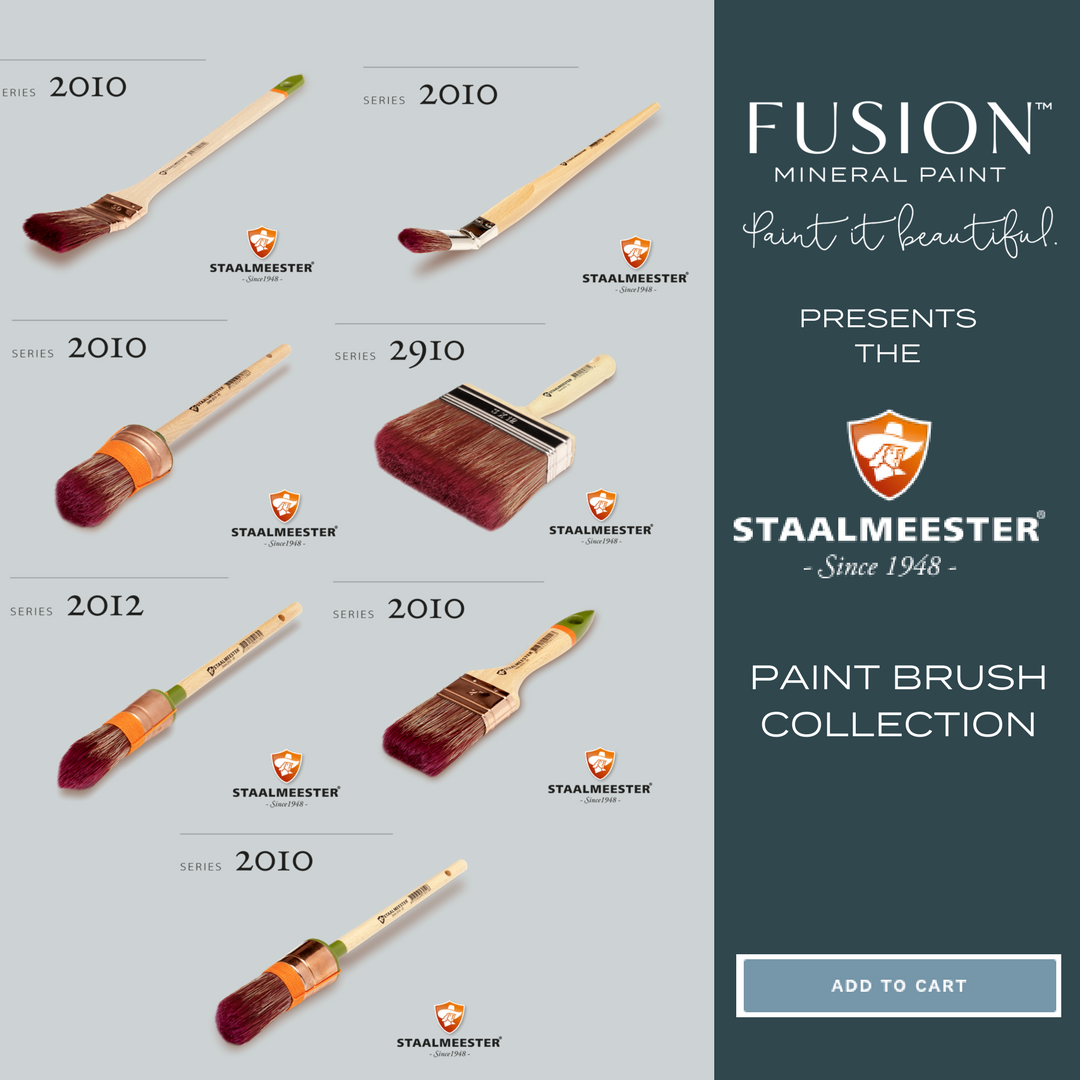 These brushes come with History! A bit like the Fusion Brand, they are a family endeavour supported by knowledge and technology. You will never find a better brush!
SO WHAT IS ALL THE EXCITEMENT ABOUT?
Staalmeester Synthetic Blend Brushes were created for Painted Perfection Staalmeester have been manufacturing brushes for over 70 years. The synthetic blend bristles can be used with of all types of paint, however, we are particularly happy with the way it performs with Fusion Mineral Paint. Staalmeester stands head and shoulders above the rest.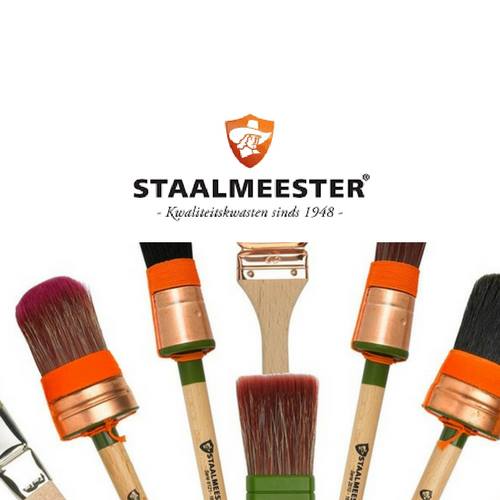 Staalmeester brushes are not your average brush. These are lifetime brushes. So as long as you take care of them, you won't need to constantly buy a new brush for every project that you undertake. We've said it before, the Staalmeester is the Rolls Royce of Brushes.
This unique synthetic / natural bristle blend has a short natural china bristle, blended with a longer silky synthetic bristle. The natural bristle ensures  better paint absorption and the synthetic bristle component allows for a smooth, even application having minimal to no brush strokes.
This top quality brush has a traditional beechwood handle and a coppered ferrule, (did you ever see a prettier brush?), with deeply set bristles which is ideal for painting small projects, complicated mouldings, banisters, window frames, ledges, doors and of course furniture. Aside from the flat, the Staalmeester synthetic blend bristles have a band of string that is to be kept intact as they give the bristles direction and perfect tension.
Depending on your painting techniques you can achieve a smooth flawless finish or a unique heavy textured appearance.
We have curated for you 15 of the best brush styles Staalmeester  to give you an opportunity to try a sampling of the quality of the Staalmeester brushes.
Excited and ready to buy? View the collection and buy right now!
(Click Above Picture to Enlarge)
How to Pick the Right Brush for the Project
We always emphasize that prep is one of the most important parts of the painting process. Part of prepping to paint is also choosing the best products for your projects. So when you asked us for a premium quality, professional level brush, we listened and brought you the BEST paintbrushes on the market – Staalmeester brushes.
We know it can be confusing and hard to decide which brush shape is best for your paint projects so we are breaking down 4 styles of Staalmeester brushes for you to help you choose the right brush for the right project.
Staalmeester Oval - Available in 35, 40, and 45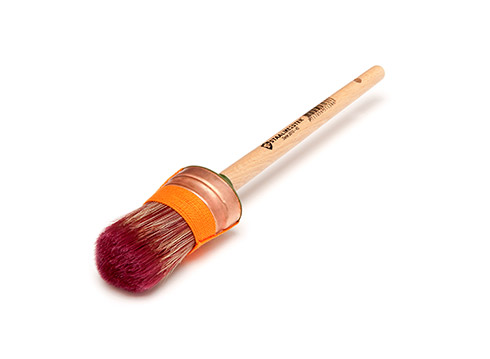 This oval shaped universal paintbrush features the Staalmeester synthetic blend and is suitable for applying both synthetic and water-based paints. The oval shape makes it easy to switch between small and larger surfaces with the same brush.
Oval Staalmeester brushes are best used for painting: Window frames, furniture, doors and other similar surfaces. 
Staalmeester Round - Available in 18 and 20
This round paintbrush is suitable for both synthetic and water-based paints like Fusion. The brush features a traditional beechwood handle, cotton rope, and a INOX ferrule, in the familiar Staalmeester colors, along with the special Staalmeester 100% synthetic fiber. This mix offers, apart from its high absorptive capacity, a perfect balance and resistance for easy handling of the paint. The synthetic fiber is supple and soft, so that a stripe-less result is guaranteed. It has all positive features from the traditional mix series (2010), but then without natural bristle. Perfectly apt for working with water-based paints. Now also better combined with synthetic paints, due to the new fibre.
The Round Staalmeester #20 is comparable in size to the Oval #35, while the Round #18 is slightly smaller. The Staalmeester Round brushes are best used for painting: smaller furniture projects, window frames, edges, and smaller surface areas.
Staalmeester Flat - Available in 10, 15, and 20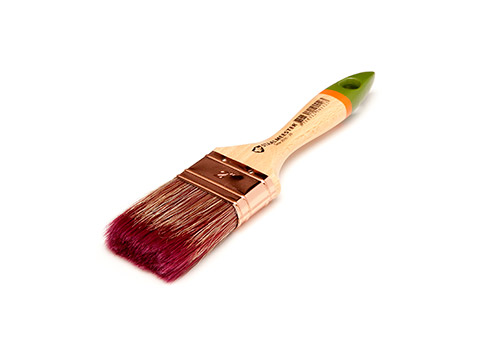 Universal flatbrush is suitable for both synthetic and water-based paints. The Staalmeester synthetic blend ensures better paint absorption and an even smoother finish. With a traditional beechwood handle and a coppered ferrule with deeply set bristles.
Flat Staalmeester brushes are best used for: Varnishing or staining large areas such as wooden floors, railings, fences and other large surface areas.
Staalmeester Pointed Sash - Available in 14 and 18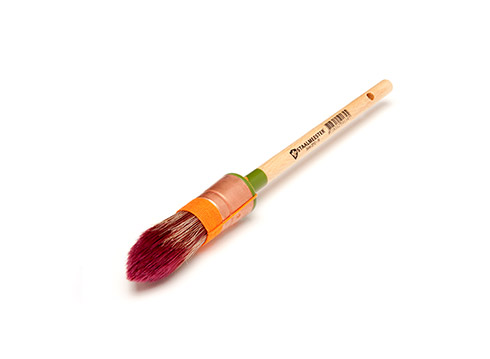 Staalmeester synthetic blend bristles is suitable for the processing of all types of paint. This universal paintbrush is ideal for painting shaped profiles.
Staalmeester Pointed Sash brushes are ideal for painting shaped profiles such as skirting, banisters, window frames, ledges, doors and furniture.

(The Staalmeester Pointed Sash is the Perfect Brush for Painting Edges)
Other Paintbrushes and Rollers.  
Another brush to have in your bag of tricks is the Fusion's 2" Angled Brush, which is a fabulous all around brush.  The Synthetic Bristles of the 2" Angled Brush by Fusion are great for a smooth finish virtually free of any brush strokes.
Paint Application.  When starting off with any new or dry brush submerge into water to the ferrule briefly just to dampen the bristles. Give the bristles including the string a squeeze so that the brush is barely damp.
Dip your brush into the paint only half way up the bristles, otherwise it is too much paint on the brush, and clean up will be more work.
Should you notice any brush strokes, you have too much paint on your brush. See the Guide to Avoiding Brush Strokes post.
You don't want to see paint dripping off your brush, you want enough that when you go to apply the brush, it doesn't drag across, but slides nicely across without minimal effort. 
Tip. Do not allow your brush to sit idle as the paint will dry onto the bristles.keep a damp washcloth handy to wrap your brush should you need to stop painting for any reason, this will prevent the paint from drying on the brush. Give your brush some extra love with Fusion's Brush Soap for cleaning
Cleaning. Once finished painting, submerge the paint-soaked bristles of your brush into water and rinse for a minute. It is incredible how much paint has been absorbed by the paintbrush so do allow it to sit in water up to the edge of the paint line or at the most up to the ferrule (metal part holding the bristles) if needed.( you can leave it for a couple of hours if you wish but not recommend to leave in water past the ferrule for extended periods). Allow at least 30 minutes to sit so the paint ends up falling off the bristles into the water saving you a lot of time rinsing.  Rinse and change the water. If it is not clear then repeat this process. You can also use the soap as you rinse out the bristles.
Using the Fusion's Brush Soap to clean the bristles of the brush and work it down all the way into the ferrule, and rinse thoroughly with lukewarm to cool water until no trace of paint or suds is left. The area near the ferrule is hard to clean but it's just as important for maintaining a brush shape as the tip!
Allow the brush to dry further at normal room temperature (do not heat up the process above a radiator) or drying by using a cloth, then restore the bristle to its original shape, for example by wrapping into a foil/film. Another option is using the hole in the handle allow paintbrush to hang for drying.
Using Fusion's Brush Soap in only a tiny amount for every other brush cleaning is a nice way to condition the natural bristles and to remove paint from the synthetic bristles. If there is still paint remaining within the paintbrush and it is allowed to dry then your bristles will become quite stiff as the paint acts like a glue. That's why it is crucial all paint is removed from your brush before you allow it to dry.

(How to Clean your Paint Brush)
These brushes are not designed to be disposable as they are up to the task of being used for many years.
Not forgetting, of course, our lovely little Natural Bristle Brushes, for that hand painted look and the super Acrylic Angled Brushes for that smoother, MCM look!
This is why we LOVE, LOVE, LOVE the Staalmeester collection!
Have fun out there!